Ecological Civilization and Symbiotic Development
April 27, 2018

-

April 28, 2018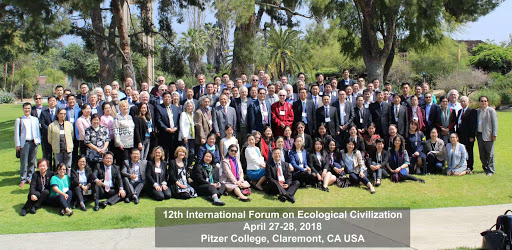 12th International Forum on Ecological Civilization
Time:April 27-28, 2018
Location:Benson Auditorium, Pitzer College
1050 N. Mills Avenue, Claremont, CA 91711
Related News
Conference Purpose
It is no secret that both China and the world are facing many disturbing problems today, and that we are heading in the direction of an ecological catastrophe. Finding an alternative to the current form of modernization has become an urgent issue. What are the root causes of the current crisis? What are the philosophical, political, economic, and cultural foundations of this crisis? How do we step out of this predicament and avoid destroying the earth's ecosystems? Are there alternatives to the Western civilization that has formed the modern era? Is a new civilization—an ecological civilization―possible? What is "ecological civilization"? What are its philosophical foundations and its social, political, and economic implications? What kinds of kinds of sustainable practices are emerging today that may help us to create an ecological society? What kind of role can China play in creating an ecological civilization? The 12th International Forum on Ecological Civilization will contribute fresh reflection on these burning questions from an organic, relational, non-dualistic perspective that is far more congenial to classical Asian thinking in general, Chinese in particular.
Cosponsors:
This Conference will be hosted by the Institute for Postmodern Development of China, EcoCiv, the Center for Process Studies, Pitzer College, Claremont Graduate University, The South China Institute of Environmental Science, the Ministry of Environmental Protection of China, Huanghe Science and Technology College, and others.
Plenary speakers:
John B. Cobb, Jr., David Korten, Holmes Rolston , Philip Clayton, Steven Rowe, Clifford Cobb and others will speak at this conference
Main Topics:
I. Core Theoretical Issues concerning Ecological Civilization
What is "ecological civilization"?
What are its philosophical foundations?
What are its social, political, and economic implications?
Ecological Civilization and Symbiotic Development
Ecological Civilization and Organic Thinking
Marxist Ecological Thought
Constructive Postmodernism and Ecological Marxism
Organic Marxism and Ecological Marxism
Process Philosophy and Ecological Civilization
Chinese Traditional Culture and Ecological Civilization
II. Constructing Ecological Civilization
How can we create an ecological civilization?
Ecological Civilization and Green Development
Ecological Civilization and Eco-cities
Ecological Civilization and Ecological Agriculture
Ecological Civilization and Ecological Economy
Ecological Civilization and Green Community
The Construction of Ecological Civilization in China
Constructing Ecological Civilization around the World
How to Tell the Story of Ecological Civilization: The Role of Ecological Literature
Ecological Civilization and Green Language
III. Ecological Civilization and Education
Ecological Civilization and Education Reform
Ecological Civilization and Educational Innovations
Ecological Civilization and Ecological Education
Ecological Civilization and Education with Roots
Ecological Civilization and Organic Education
Call for Papers
If you are committed to creating an ecological civilization and have interest in any of the above topics, you are invited to contribute a paper to the conference. Please submit a 1500 word abstract of your proposed conference paper. The deadline to submit your abstract is Feb. 28, 2018.
Contact Info:
Institute for Postmodern Development of China, USA
Email: eco-conference@postmodernchina.org
Tel:909-450-1658
Fax: 909-621-2760